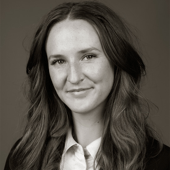 Minna Sivertsson
Young Professional 2021 – Young Professionals
University: Jönköping University (School of Engineering & Jönköping International Business School)
Degree: B.Sc. Industrial Engineering and Management specialising in Logistics and Management & M.Sc. in Business Administration specialising in International Logistics and Supply Chain Management
Why did you join Opticos?
Opticos' main capabilities: sourcing & procurement, strategic IT, and digital business transformation, aligned well with my educational background and interests, thus the company instantly caught my attention. Additionally, I knew early on that I preferred to join a trainee program after graduating. Opticos' Young Professionals Program successfully includes both theoretical courses and practical elements to help you develop into the role of a management consultant.
Another important criterion for me was that I wanted to join a small company with a collaborative environment and less hierarchical standards that are usually found at the typical large-sized companies. Opticos as a company has the perks of being a small company where every employee is seen, but you still get to work with clients who are well known on an international scale, giving you the best of both.
You are part of the Young Professional Program at Opticos. What is it like?
It is a great way to kick-start your career, knowing that a company is willing to provide valuable training along the way. It is a great way to learn quickly, both through the Young Professionals courses, but also from your colleagues and client assignments that you join right when you start. The courses are also highly appreciated as you can apply what you learn to your client assignments.
What did you do before joining Opticos?
Before joining Opticos' Young Professionals Program, I finished my M.Sc. in International Logistics and Supply Chain Management at Jönköping University while I simultaneously worked at a Hotel/Sports center as an Operations Manager and Receptionist. During my university years, I have also lived and studied abroad several times.
What is the best part about your job at Opticos?
I highly value the diverse job that Opticos offers me; by being a part of various client assignments, I am always doing and learning new things. I find it exciting to work with so many knowledgeable and experienced people, both through client assignments and within Opticos, who also help me build my own network.