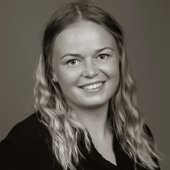 Jessica Grundström
Young Professional 2021 – Young Professionals
University: The Institute of Technology at Linköping University
Degree: M.Sc. Industrial Engineering and Management – Chinese, specialization in Logistics and Supply Chain Management
Why did you join Opticos?
After graduation, I wanted a stimulating job with a steep learning curve, which also was my perception of the role as a management consultant. I was searching for some kind of trainee program or similar, since I thought that would be a good way to start my career. When I thought about what kind of consultancy firm I wanted to work at, I thought of a smaller one with ambition to grow and a high level of internal competence. As Opticos could offer me all that, and is a highly future-oriented consultancy firm, it was the perfect fit for me!
You are part of the Young Professional Program at Opticos. What is it like?
The Young Professional Program gives you the perfect combination of courses, client assignments and internal projects. I have been on a client assignment since day one, and I have learned so much, just like I wanted to! The courses we have had, give us a lot of tools and tricks that have been very useful so far. Through the internal projects I have got the opportunity to learn more about Opticos core capabilities, as well as got to know, and take advantage of, my colleagues experience and knowledge. I feel like I always have someone to ask if I am wondering about something, whether it is a fellow Young Professional or one of my senior colleagues. As new on the job, I value this highly.
What did you do before joining Opticos?
Before I joined Opticos, I studied Industrial Engineering and Management – Chinese, with a specialization in Logistics and Supply Chain Management in Linköping. During my studies I also spent a year studying in Taiwan, enjoying both the school, the culture and the opportunity to practice my Chinese.
What is the best part about your job at Opticos?
One of the best parts about Opticos is how helpful everyone is. I feel like I always have someone to turn to since my colleagues have a wide range of backgrounds and educations. Another great part is that I am constantly challenged by new assignments and projects, which is solved through collaboration. Lastly, the social activities are varied and highly appreciated by everyone, which leads to a feeling of belonging within the company!