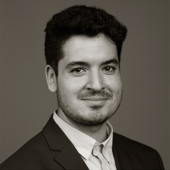 Mario Gonzalez Muñoz
Young Professional 2021 – Young Professionals
University: KTH, Royal Institute of Technology
Degree: M Sc & B Sc Industrial Engineering and Management
Why did you join Opticos?
During my education, I decided early on that I wanted to work in management consulting but was unsure within what area. It was not until I started taking courses within digitalization and IT strategy that I realized that those were the subjects I wanted to work with in the future. What caught my interest was how new technology is enabling businesses and how businesses are in need of digital transformation to stay competitive. That was why I decided to search for firms with these capabilities and when I found out about Opticos, I was convinced that it was the right match. Besides from having the expertise that I am most fond of, Opticos also made sure to emphasize their values, such as collaboration and humbleness, and offered an environment which I thought would allow me to continue to grow and learn.
You are part of the Young Professional Program at Opticos. What is it like?
I feel like the Young Professional Program has been the perfect start to my professional career. During the few months I have been enrolled in the program I have had several courses that are all relevant to the everyday tasks and responsibilities that I have in my projects. The courses are ran by senior consultant with several years of experience and to take part of their perspectives and see how they apply theories and frameworks in practice has been very giving. The combination of having these courses and being assigned to projects from the start has really accelerated my development. The best part about the program is that you are not alone on this journey and have your other young professionals to share your experiences with, but also a development coach that guides you in the role as consultant.
What did you do before joining Opticos?
Before joining Opticos i studied Industrial Engineering and Management at KTH. I also had the opportunity to study abroad in Singapore for one semester. During my education I have also had different part-time jobs such as business analyst at a software company and economical reviewer at a state municipality.
What is the best part about your job at Opticos?
The best part about Opticos is the huge amount I have learned during these few months that I have been here. Ever since the first day I feel that I have been given the confidence from my colleagues to assume responsibilities and take on complex challenges. One thing that I noticed is that there are many senior consultants with several years of experience from different industries and roles at that you can learn from and they are all more than willing to share their experiences. Everyone at Opticos put a lot of effort in making us young professional feel welcomed and a part of the team and you can really tell how important your own individual development is for the firm, which makes you feel very appreciated. If you are reading this and are interested in working in challenging projects together with fun and supportive co-workers, I really recommend you to apply to the Young Professional Program!