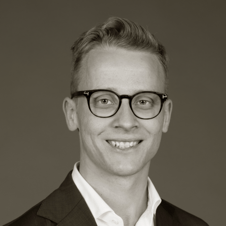 Måns Tangvald
Management Consultant – Opticos
University: Chalmers University of Technology
Degree: B.Sc. Industrial Engineering and Management and a M.Sc. Management and Economics of Innovation
Why did you join Opticos? 
While looking for opportunities, my ambition was to join a smaller firm less prominent of the traditional hierarchies one normally finds at larger companies. As a Young Professional at Opticos, you are continuously interacting with senior management, both formally on assignments but also informally at the office.
Furthermore, Opticos is a firm characterized by seniority and high expertise which was another aspect that I considered when choosing Opticos. On a regular basis, I have had the opportunity to collaborate on assignments together with colleagues with decades of experience in our capability areas.  
You have been part of the Young Professional Programme at Opticos. What was it like?  
Challenging and rewarding. The regularly held YPP courses have provided us with the theoretical baseline necessary for contributing on client assignments. Moreover, the courses which are held by senior Opticos employees from all regional offices, have accelerated the on-boarding process and enabled us to quickly expand our internal contact network cross-regionally.  
What did you do before joining Opticos?  
I studied at Chalmers University of Technology in Gothenburg where I hold a B.Sc. in Industrial Engineering and Management and a M.Sc. in Management and Economics of Innovation.  
What is the best part about your job at Opticos?  
Work-related: When I am challenged by tasks which require complex data analysis in Excel / PowerBI.
Socially: When we do activities out of the office together. Including but not limited to: New York City Marathon 2021, Flatö Half Marathon 2020, Opticos Minigolf Championships 2020, and Opticos Kubb Championships 2020.