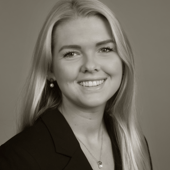 Louise Lago
Young Professional 2022 – Young Professionals
University: Linköping University

Degree: Master of Science in Business and Economics, with a major in Business Administration. Also studied some courses within the information technology and computer science.

Why did you join Opticos?
Upon completing my education, I was eager to embark on a career that would offer me continuous learning and a stimulating environment. My vision was to become a management consultant, and I believed that a structured trainee program would be the ideal starting point. As I reflected the kind of consultancy firm I aspired to join, I pictured a smaller organisation driven by ambition and a high level of internal expertise. Working with strategic IT was a key priority for me, and since this is one of Opticos four capabilities, Opticos was the perfect match.

You are part of the Young Professional Program at Opticos. What is it like?
Being part of Opticos' Young Professional Program has been an enlightening experience! This program strikes an excellent balance between courses, engaging client assignments, and impactful internal projects. The courses provided have equipped me with valuable tools and strategies that I've applied in client assignments. The combination of having these courses and being assigned to projects from the start has really accelerated my development. Participating in internal projects has not only deepened my understanding of Opticos' core competencies but has also allowed me to contribute to the ongoing development of our firm. As someone new to the job, I appreciate having a network of fellow Young Professionals to share experiences with, and senior colleagues to turn to when I need guidance, have questions and help me grow.
What did you do before joining Opticos?
Before joining Opticos, I studied a Master of Science in Business and Economics, with a focus on Business Administration, at Linköping University. During my education, I also had part-time job, including roles in as insurance industry and at the campus gym.
What is the best part about your job at Opticos?
The opportunity to work on client assignments has been a highlight. It is here that I have been challenged, learned, and grown in ways I never imagined. Collaboration is another key element that sets Opticos apart, as we often do team-deliveries at client assignments. The spirit of teamwork and the readiness of colleagues to provide support have been important in my professional development and taking on complex challenges. Moreover, Opticos' social activities have created a strong sense of belonging, making work not only fulfilling but also a joyful and enriching experience.