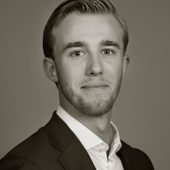 Nils Andersson
Young Professional 2022 – Young Professionals
University: Jönköping International Business School & School of Business, Economics and Law at the University of Gothenburg
Degree: B.Sc. in Business & Economics – Sustainable Enterprise Development, M.Sc. in Business & Management
Why did you join Opticos?
My bachelor's program, Sustainable Enterprise Development, placed a strong emphasis on problem-solving, analysis, and innovation. Somewhere along the way, this sparked an interest in tackling challenges. The foundation in sustainability that I gained through the Sustainable Enterprise Development program was put to the test during my internship at a company while I pursued my M.Sc. in Gothenburg. The company where I interned had constructed its business model around digitisation, transparency, and optimisation. It was there that I developed an interest in enhancing processes, resolving issues, and digitalisation. This experience provided me with a more profound understanding of the significance and role of IT and digitisation in a company's journey toward sustainability. As a result, I became motivated to deepen my knowledge of IT and digitisation. Consequently, I started looking for companies, with a primary focus on management consulting firms, that had strong expertise in this field while also being active in other areas. I chose to apply to Opticos because I was drawn to their values, expertise, company size, and the opportunity to take on significant responsibilities early in my career.
You are part of the Young Professional Program at Opticos. What is it like?
The Young Professional Program has given me a great start to my career by providing valuable knowledge about the role of a management consultant.
In the short time I have been part of the program, I have undertaken various courses directly relevant to the tasks and responsibilities I manage in my daily projects. These courses are led by senior consultants with years of experience. Gaining insights from their perspectives and observing how they apply theories and frameworks in practice has been incredibly enriching. The combination of participating in these courses and engaging in projects from the very beginning has truly accelerated my development.
Beyond all this, both past and present YPP participants share a special relationship characterised by humility, positivity, and helpfulness. Former YPP members can relate to the current YPP's situations and provide valuable feedback, while those in the same cohort support and uplift each other.
What did you do before joining Opticos?
Before joining Opticos, I completed my M.Sc. in Business & Management from the School of Business, Economics, and Law at the University of Gothenburg. While I was studying, I had the chance to do an internship at an e-commerce wholesaler. During this internship, my main responsibilities involved improving their logistics operations and creating their first sustainability goals and strategies.
What is the best part about your job at Opticos?
From the very beginning, my colleagues have made me feel much more confident. They have given me the support to handle responsibilities and tackle difficult tasks. I would like to underscore the working environment at Opticos. Here, senior consultants, each possessing several years of experience across various industries and roles, are readily available for you to learn from and eagerly share their insights. They are also genuinely interested in learning from your perspective in different areas. At Opticos, everyone puts in a lot of effort to make sure that young professionals feel warmly welcomed and smoothly become a part of the team. This commitment reflects the company's genuine dedication to personal growth, leading to a truly satisfying experience.