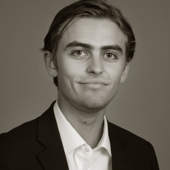 William Hansson
Young Professional 2022 – Young Professionals
University: The Institute of Technology at Linköping University

Degree: M.Sc. Industrial Engineering and Management, specialisation in Strategic Management & Control

Why did you join Opticos?
I joined Opticos because I was drawn to the opportunity to work with a diverse range of clients and tackle interesting challenges across industries. I also wanted to join a smaller firm with more of a personal culture and close collaboration across seniority levels, and Opticos aligned perfectly with these preferences.
You are part of the Young Professional Program at Opticos. What is it like?
The Young Professional Program has been a fantastic experience for me as a recent graduate. Alongside working in client assignments, the program provides theoretical and practical training into key areas that you can apply right away. The program has definitely accelerated my learning curve and exposed me to various aspects of IT- and management consulting.
What did you do before joining Opticos?
Before joining Opticos, I completed my degree in Industrial Engineering and Management at Linköping University.
What is the best part about your job at Opticos?
I really enjoy the diverse work I get to do at Opticos. Being part of different client projects means I am always learning something new, which is exciting. I also like being able to take on internal assignments and already feel part of the development of the firm.