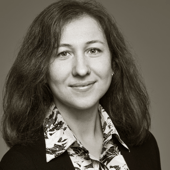 Tatiana Schön
Management Consultant specialized in Financial Management – Opticos
What did you do before joining Opticos?
Throughout my career I have had a number of jobs within Finance. I have worked as an auditor, finance specialist, business analyst and requirements analyst – both as a consultant and as an employee. I have experience from various industries such as Property Management, Banking & Insurance, International Affairs and more. I have a university diploma in Finance and a MSc. in Project management and Operational Development. Apart from that I studied applied mathematics in Finance. I am also a certified requirement engineer (IREB).
What project are you working with now?
I am currently working with a client in the manufacturing industry. We are doing an assessment of IT capabilities applicable for a finance and controlling function within the organisation.
What are your areas of expertise?
I possess sound background in Financial Management and in general business analysis for developing sustainable IT solutions within Finance, purchasing, CRM, asset management and BI and integration solutions. I have experience from various types of organisations, both project- and maintenance- focused, Nordic and international, both for and not-for-profit.
Why did you join Opticos?
The way Opticos defines the consultant role is in line with how I see it. "With you, for you" – together with the client and independent. Opticos offers its clients a number of competences needed to successfully complete the assignment, which means you are always a part of an Opticos team when you are working with a client.