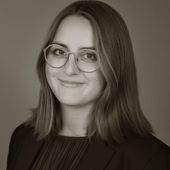 Malin Rydén
Young Professional 2022 – Young Professionals
University: Chalmers University of Technology
Degree: M.Sc. & B.Sc. Industrial Engineering and Management – specialisation in Management and Economics of Innovation
Why did you join Opticos?
During my studies, I always had an interest in management consultancy, but I knew early on that the company's values would be very important to me in my choice of joining a company. I was looking for a personal, smaller consultancy firm with an ambition to grow, and with the combination of Opticos values such as humbleness and collaboration, I was certain that it was a great match. I was also very intrigued by Opticos strong focus on new technologies and digital transformation as this affects all businesses and is something that organisations must leverage to stay competitive and relevant in the market.
You are a part of the Young Professional Program at Opticos. What is it like?
For me, the Young Professional Program has been a great kick-start into the role of a Management Consultant with the perfect combination of courses, client assignments, and internal projects. The program has provided me with valuable tools and knowledge that have greatly accelerated my development, both in specific domains and general skills as a consultant. In the courses, I have learned first-hand from my experienced colleagues in subjects that are highly relevant in my client assignments. Through internal projects, I have also had the opportunity to deep dive into Opticos core capabilities and broaden my learning path. I have highly valued being part of a group of young professionals where we have had the opportunity to learn from each other, share experiences, and have fun together!
What did you do before joining Opticos?
Before I joined Opticos I studied Industrial Engineering and Management with a specialisation in Management and Economics of Innovation at Chalmers. During my studies, I spent a semester in Portugal where I gathered valuable insights from a new university and educational system, combined with exploring a different culture.
What is the best part about your job at Opticos?
One of the best parts of working at Opticos is how I am given the confidence to take on responsibilities and tackle complex problems, both in exciting client assignments and different internal projects. At the same time, I am surrounded by helpful colleagues who I always can turn to for support when I need it, which gives me even more confidence in solving new challenges. To add to this, our varied social activities create a fun atmosphere that fosters both collaboration and a united feeling in the company!