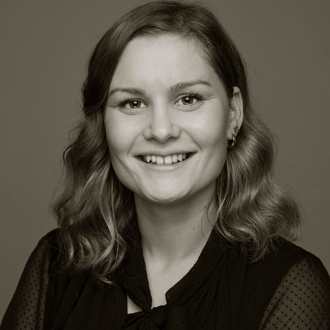 Linnea Håkansson
Young Professional 2021 – Young Professionals
University: The Faculty of Engineering at Lund University
Degree: M.Sc. in Industrial Engineering and Management with a specialization in Logistics and Supply Chain Management
Why did you join Opticos?
When was at the last year of my studies, I can honestly say I was pretty confused and didn't know exactly what I wanted to do at first. However, one thing I did know was that I wanted to gain widespread experience from different industries and assignments, so working as a management consultant seemed fitting. When I had concluded what kind of role I was looking for I started thinking about what firm I wanted to work for and quickly realized that I wanted to start my career at a smaller firm which offered an extensive onboarding in the form of a trainee program or similar. Opticos simply ticked all the boxes for me by offering the Young Professional Program, a variety of tasks, a culture of a smaller company with many personal interactions, and many senior colleagues who are happy to share their experience. 
You are part of the Young Professional Program at Opticos. What is it like?
To this point, the program has exceeded my expectations (even though it has been fully digital when I'm writing this) by serving us with a mix of learning by doing through client assignments and theory. It is easy to read about a job, an education etc. but I believe it is next to impossible (at least as newly graduated) to actually understand and imagine how it will turn out. I'm very happy with the courses we have had, and I feel like I'm getting both hands-on tips and tricks as well as learning about more general frameworks and how they can be applied in a business context. So far, the courses have covered typical consulting tools and skills like project management, common frameworks, Excel and PowerPoint.
Already the first week at Opticos I was also introduced to a customer project. It is now about four months since I first joined and since then I have had the opportunity to participate in various client assignments with different colleagues and my tasks have included for example to preparing and participating in workshops, creating presentation material, and participating in negotiations. Since my first day I have developed skills and learned a lot about areas I previously knew nothing about.
Now I'm mostly looking forward to the autumn with more face-to-face activities such as our upcoming conference in Cannes as well as traveling to Opticos' other offices for social activities and the remaining courses with my fellow Young Professionals! 
What did you do before joining Opticos? 
I studied Industrial Engineering and Management with a specialization in Supply Chain Management at Lund University. During my studies I also spent an exchange semester in Brisbane, Australia, enjoying both other types of courses as well as the weather and getting to know new people!
What is the best part about your job at Opticos?
One thing that strikes me is how helpful and caring all my colleagues are. Everyone is always open to taking the time to sit down, explain how things work and support in areas where I still have very much to learn. Also, the employees of Opticos have a wide range of backgrounds and educations which means it is possible to gain many perspectives and insights. 
In addition, to my project managers and colleagues on the projects I also have a Development Coach who supports me in both my personal and professional development. I have gotten her help with everything from larger more complex questions to small details about how to do something the right way. Overall, I highly value that Opticos offers a culture that I believe allows you to ask questions, take initiatives and constantly develop with support from colleagues while encouraging a healthy work-life balance!