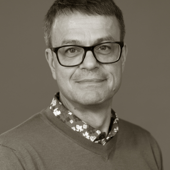 Johan Malmgren
Management Consultant and former CIO – Opticos
Why did you join Opticos?
I came to learn Opticos while working with Sandvik, where Opticos did a great work as consultants in many different assignments. At Sandvik I was also part of a network for CIO's that Opticos kept together, which gave lots of inspiration and ideas in areas we had in common. Both these great experiences contributed to my decisions to try out my luck with Opticos!
What did you do before joining Opticos?
Before joining Opticos, I was CIO at Sandvik Group. I have also worked for ABB, Ericsson and OK.
What is the most challenging about your job?
The most challenging is also the most interesting part: to quickly get a grip of a new situation, understand it from many perspectives, and deliver services that supports the client in reaching targeted objectives. In other words: to actively contribute to a successful step forward for the client.
Why did you want to work as a management consultant?
As I have been an employee for so many years with some of our big international companies, I felt it was time to make a change and find out how my experiences could contribute in other companies and situations – and also to learn more and getting to know more people!
What can you tell someone who is thinking about starting a career as a management consultant?
It is important that you have a background from dealing with business challenges inside a company – to have an understanding for how companies work and the complexities they are facing in many situations.