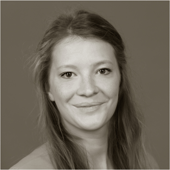 Natalie Mellin
Management Consultant – Opticos
Why did you join Opticos?
I wanted to join a firm that was on a journey. Opticos is on a journey of renewing and adapting and growing. I was previously also the Program Manager for the Young Professionals Program which I had the opportunity to start up and shape.
What did you do before joining Opticos? 
I've been working as a management consultant for 5 years in assignments mostly focused on transformation. I have an educational background in International Relations, something which has been of great use when dealing with tough changes. There is little difference between an business transformation project and a national political initiative when it comes down to the need for communication and people management.
What are the challenges is your job?
Time and people! There is always more that can be done if given more time and there will always be some challenges when dealing with change and people. There is no other way of answering without being cheesy, but the challenges are often what also make my job fun!
What is the best thing about your job?
Being part of a firm where I can shape the future of it together with my colleagues. And at the same time help my clients with their challenges and hopefully contribute to positive changes not only for the client but for our firm and if possible, the society.